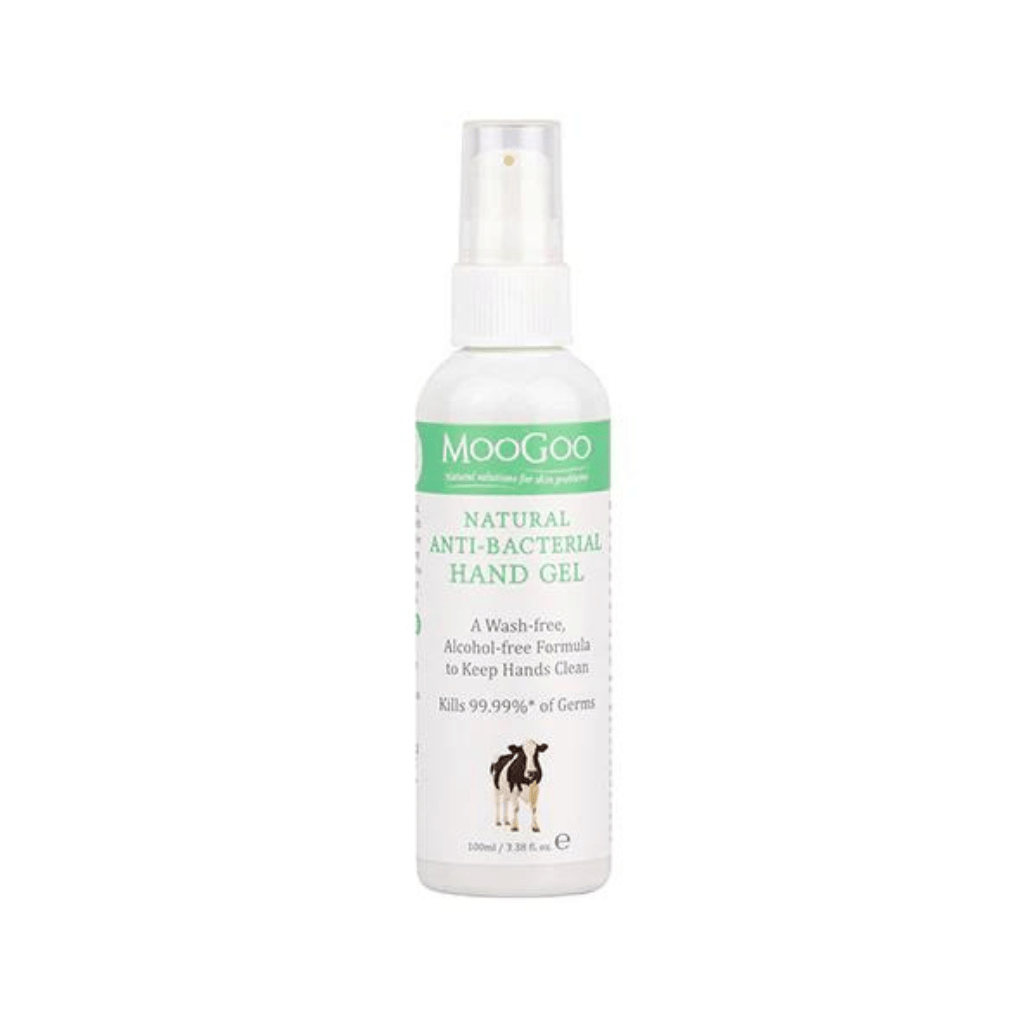 Description
A natural, alcohol-free, wash-free formula to keep hands clean
Features
Kills 99.99% of bacteria in a Time Kill Study (3 Organisms)
A moisturising base of Aloe Vera & Natural Vitamin E to hydrate hands
Made with a specific blend of essential oils to target various types of bacteria
Perfect for those who are required to repeatedly sanitise their hands
Size
100ml
MooGoo started looking into making this product after speaking with a lot of nurses and care-givers that have to wash and sanitise their hands often in their line of work. As a result, many of them often had skin problems on their hands and excessive dryness as a result of the alcohol-based cleansers. So they wanted to make something natural that did the same job but without all the damage, and even give the hands a little moisture and TLC. 
Ingredients
Aqua (H₂O's Fancy name), Thymus Vulgaris (Thyme) Oil, Aloe Barbadensis Leaf Juice (Aloe Vera), Sclerotium Gum (Food Grade Thickener), Melaleuca Alternifolia (Tea Tree) Oil, Citrus Sinensis (Orange) Oil, Piroctone Olamine (Olamine Salt), Tocopherol (Natural Vitamin E), Citrus Limonum (Lemon) Oil, Rosmarinus Officinalis (Rosemary) Oil, Acetum (Apple Cider Vinegar), Humulus Lupulus (Hops) Extract.

Because MooGoo make their products for families, they have a strict ingredient philosophy that excludes ingredients like Parabens, Phenoxyethanol and penetration enhancers.

Please be aware that the ingredients MooGoo use in their formulas may be updated occasionally and therefore vary from time to time. Please refer to the ingredient list on the product packaging for the most up-to-date and relevant list of ingredients.
NOTE: The best protection advised for a virus is washing hands with soap and water. Hand sanitisers have not been tested against the Covid 19 virus.