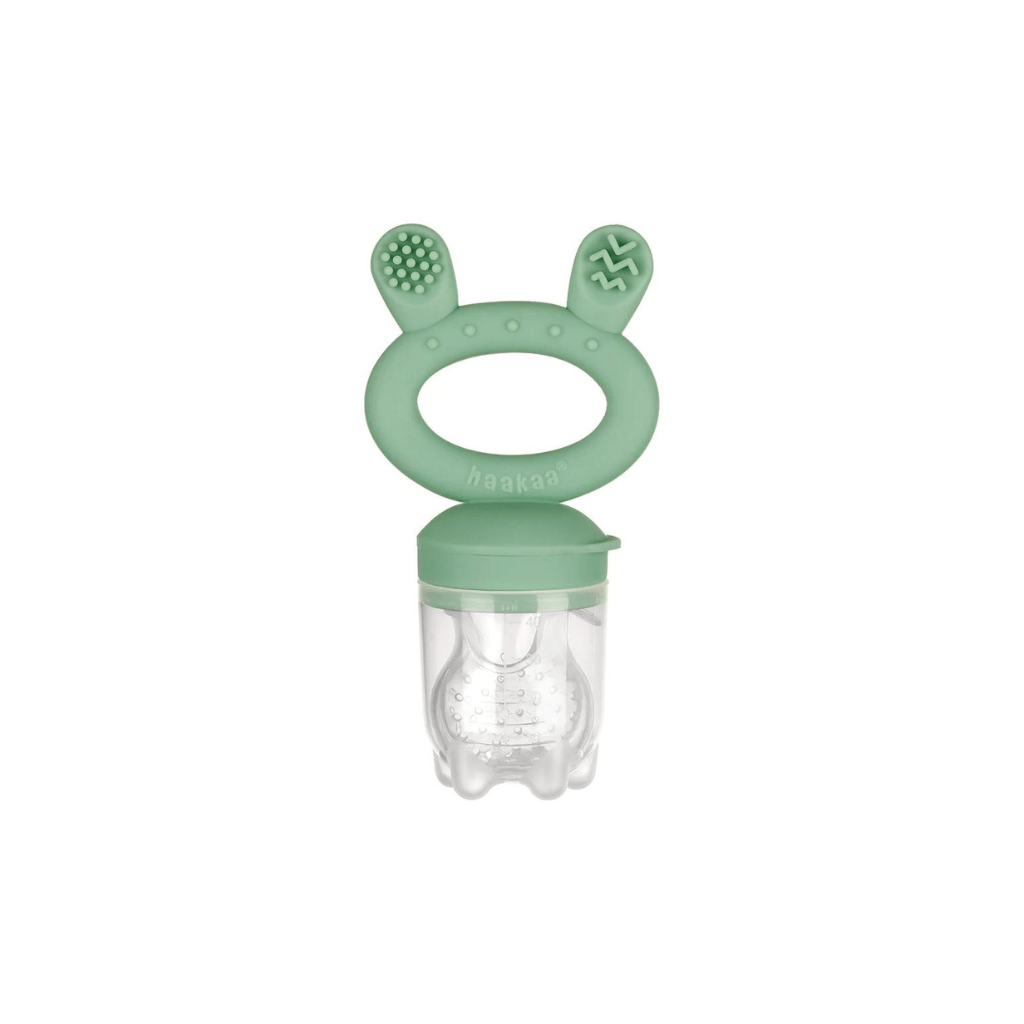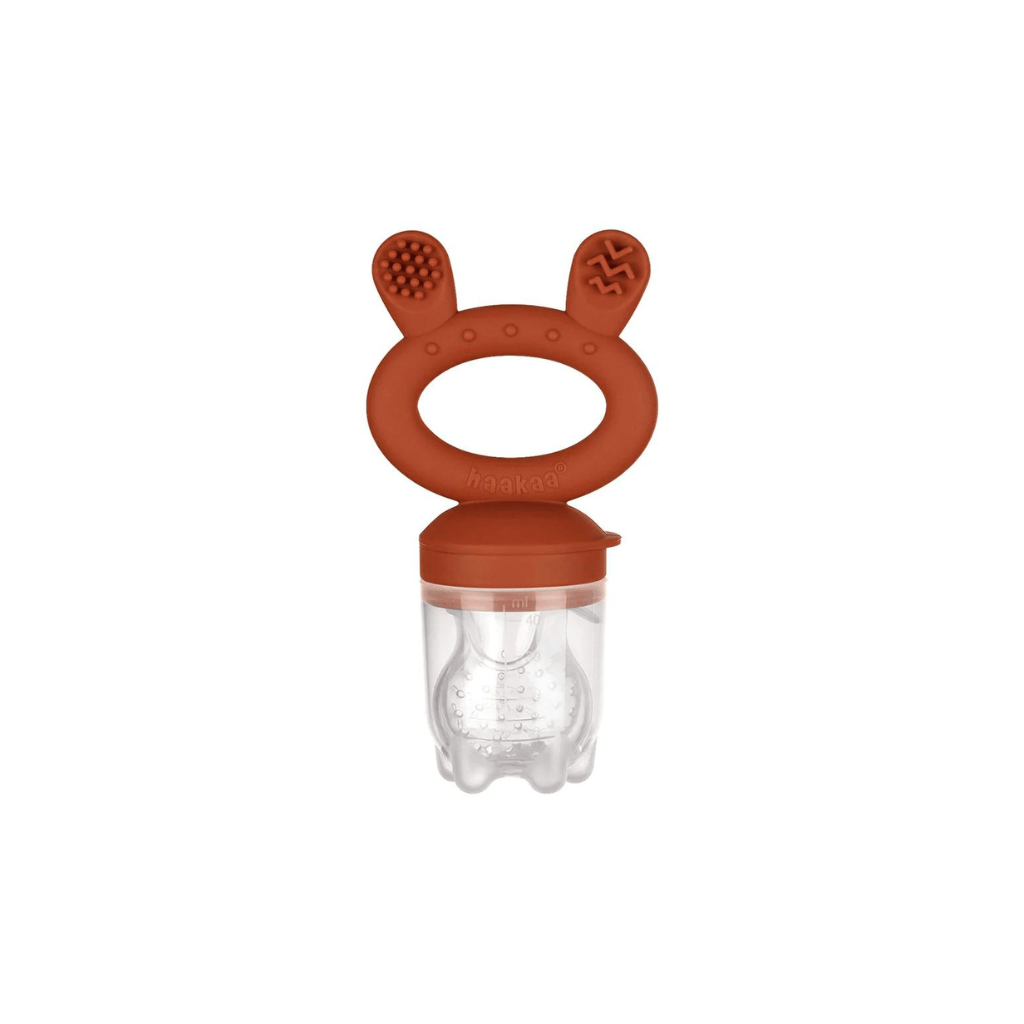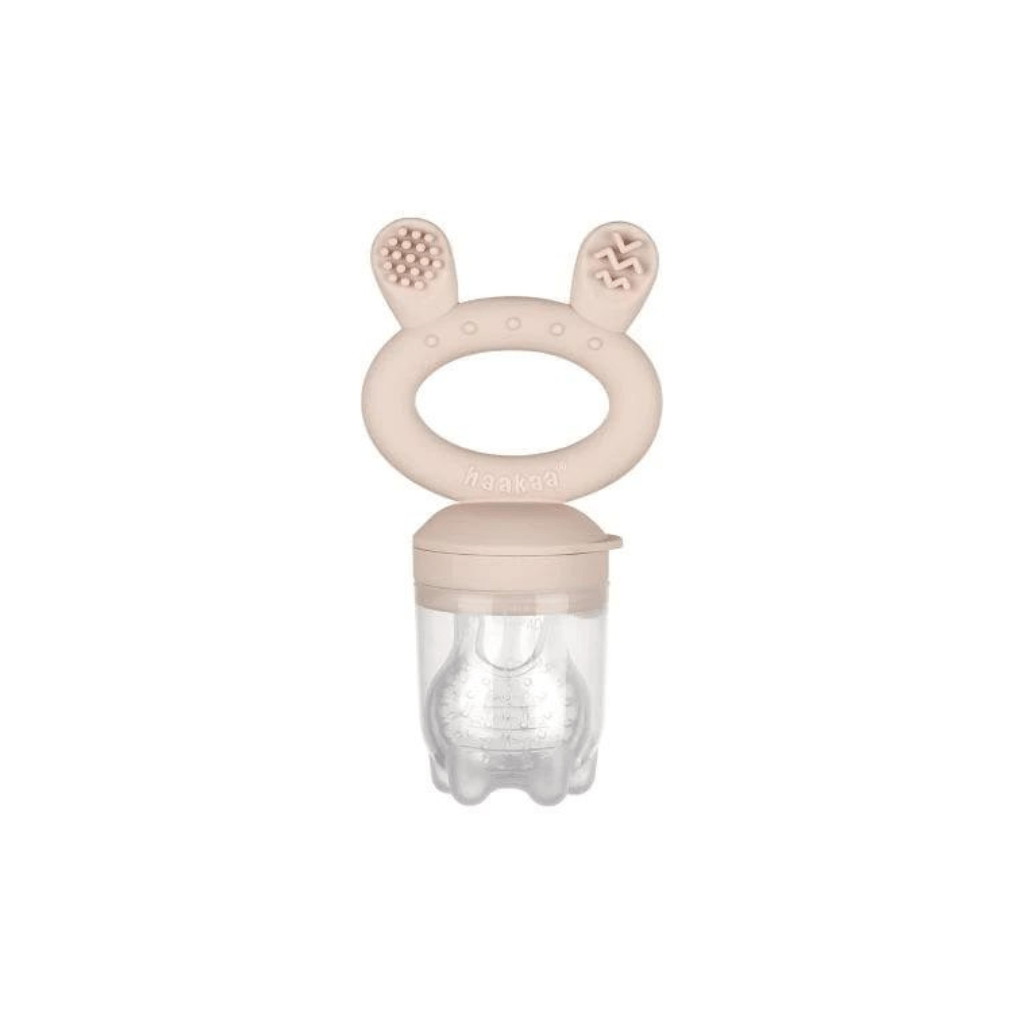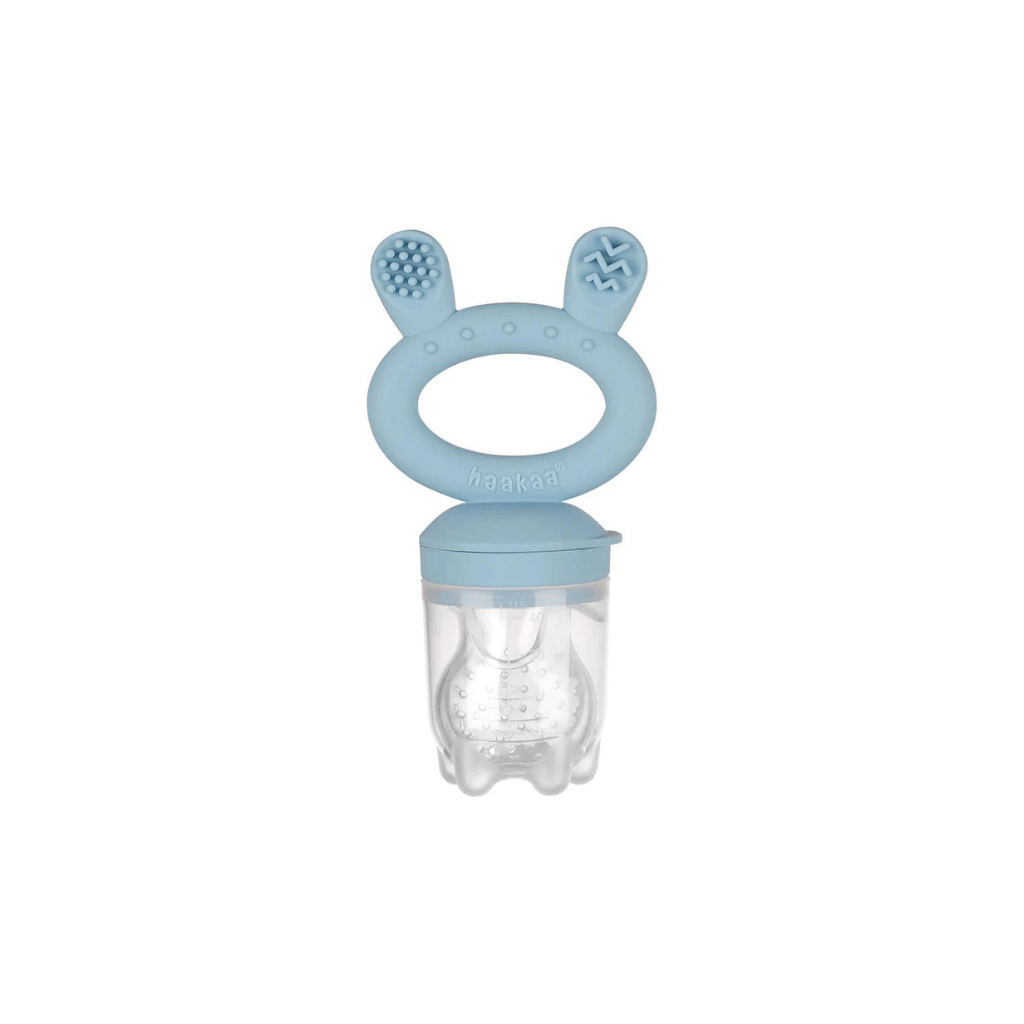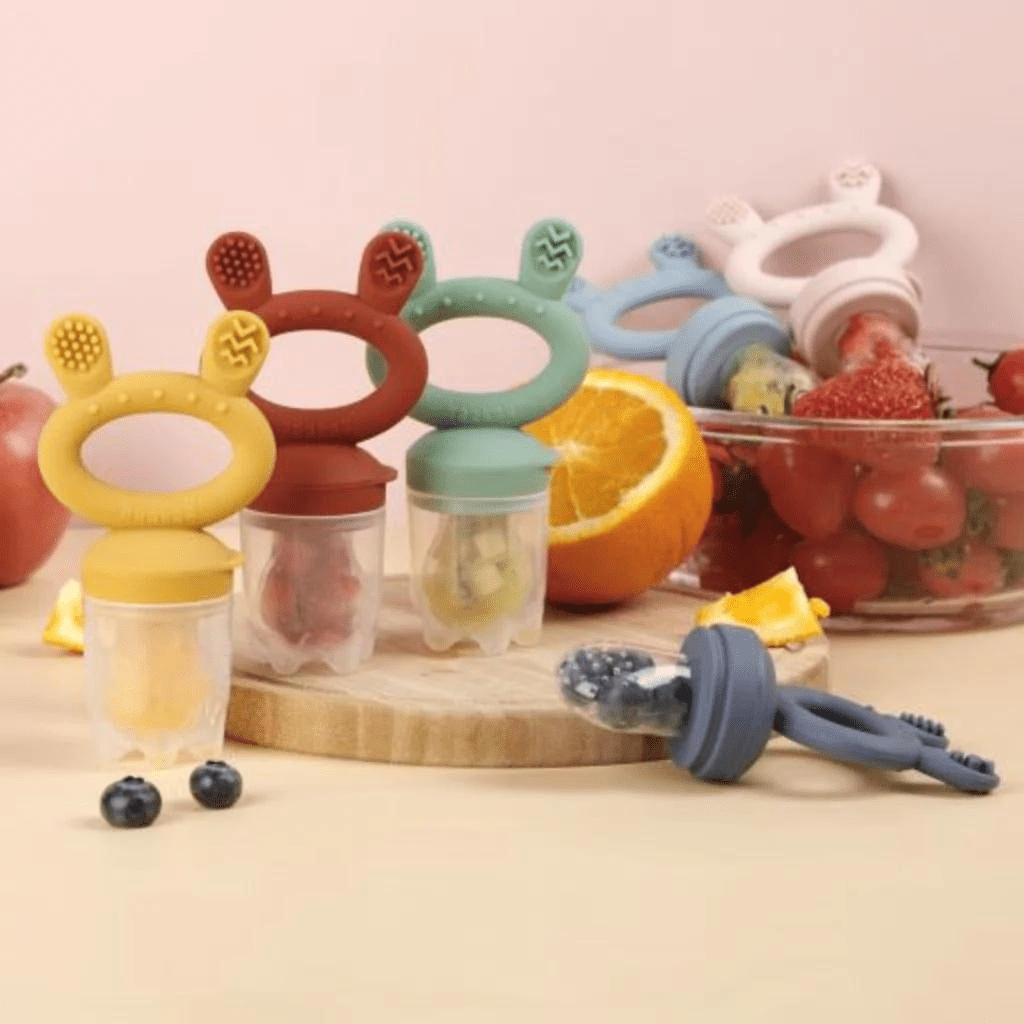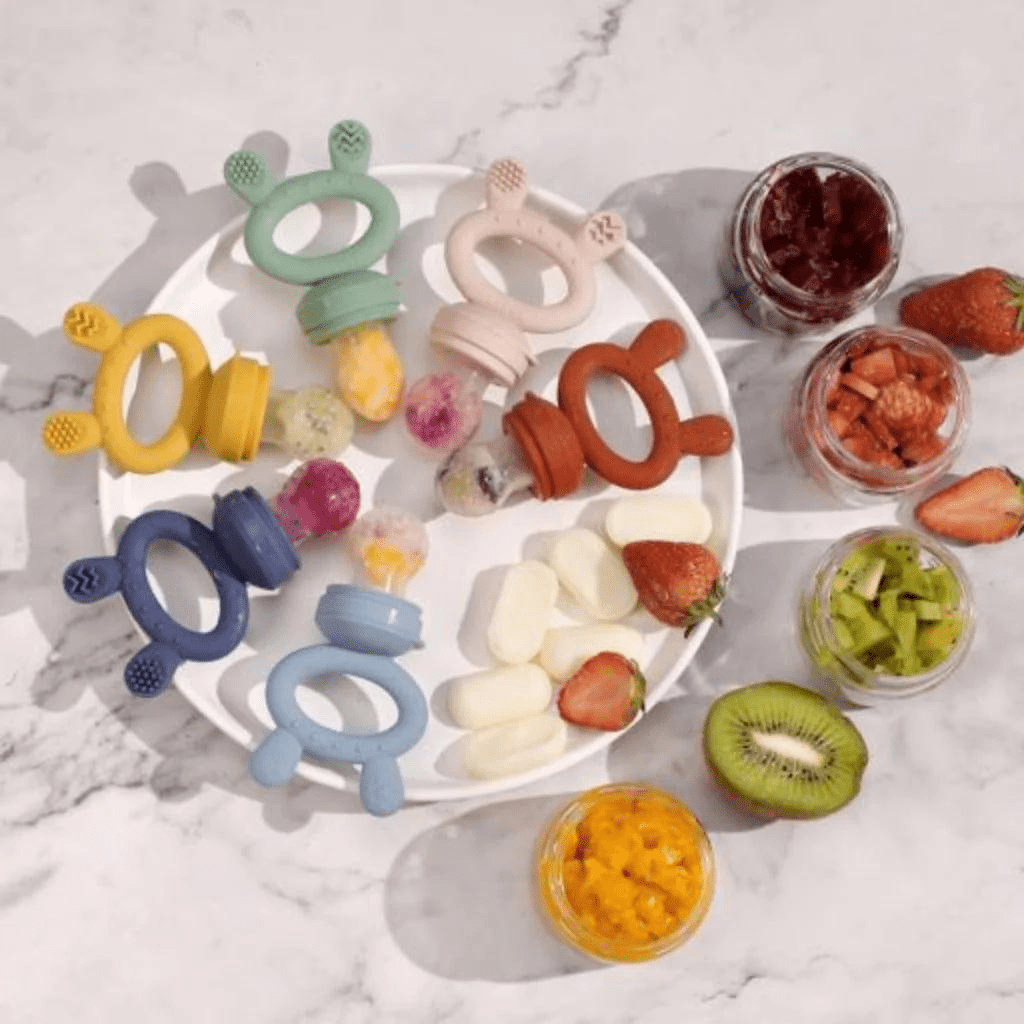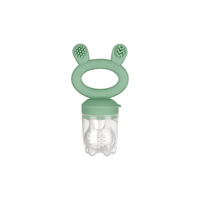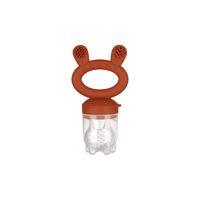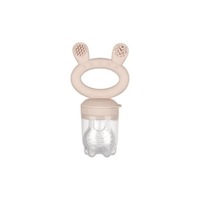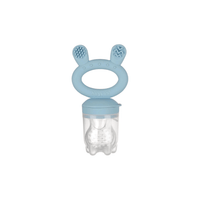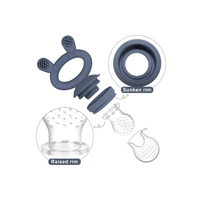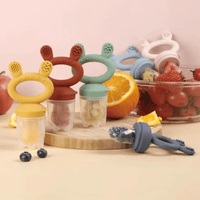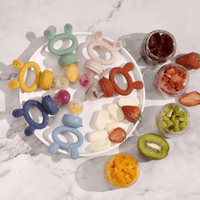 Description
The Haakaa Fresh Food Feeder & Cover Set is the perfect way to safely introduce new flavours to your baby without the risk of choking.
Suitable for 4 months+.
Made with 100% food-grade silicone, Haakaa's Feeder is more hygienic, durable and easy to care for than mesh alternatives, which are incredibly difficult to clean and can rip, harbour bacteria and absorb odours.

The Feeder is super easy to assemble and use! Simply place fruit, vegetables or meat into the silicone pouch and seal tight. You can also freeze icy treats straight into the Feeder. To do this, simply slip over the leakproof pouch cover, pour the liquid (such as breast milk or pureed food) into the pouch, assemble the Feeder, place the cap on and freeze! Once frozen, remove the pouch cover and let your one explore! They'll enjoy having the ability to experience new tastes and textures while also building independence, learning to self-feed and improving their hand-eye coordination and fine motor skills.
Note: This product is designed to be harder to open than other products to prevent choking hazards.
Features
Soft silicone pouch with small holes for easy feeding that only allow small, digestible pieces to pass-through

100% silicone design makes the feeder safe for your child to chew and suck on

Raised ridges and bristles on the rabbit's ears massage your child's teeth and gums.

New feet on the cap to allow you to stand your Feeding Teether up.
The new lip on the cap makes the pouch easier to access.
Encourages your child to self-feed, builds independence, develops confidence, and improves hand-eye coordination

Dishwasher safe. Easy to use and clean

Doesn't breed bacteria, unlike mesh alternatives

Soothes teething pain and keeps busy little hands entertained

PVC, BPA & phthalate-free

Tested to FDA and EU standards including European Standard on Safety of Toys: EN 71-1:2014+A1:2018 Mechanical and physical properties
Care
Wash the product before and after each use. Disassemble the product as soon as a child has finished and hand washed in warm soapy water (although dishwasher safe) rinse thoroughly and dry.
Do NOT use any bleach-based cleaners or tablets to sterilize or clean your Haakaa products. To sterilize use one of the following methods: Steam sterilizing (electric or microwave) or boiling in water for 2-3 minutes.
Check product condition regularly. Replace if this product shows any signs of damage. Do not store near any sharp objects. Only soft bristle brushes or soft sponges should be used to clean this product. Hard scourers may scratch the surface. Do not use it for anything other than its intended purpose. Adult supervision is required when using this product. Always check with your pediatrician for guidelines related to infants and food allergies.
Solid food is recommended for babies 4-6 months +. Please consult your midwife or medical professional if introducing solids earlier.