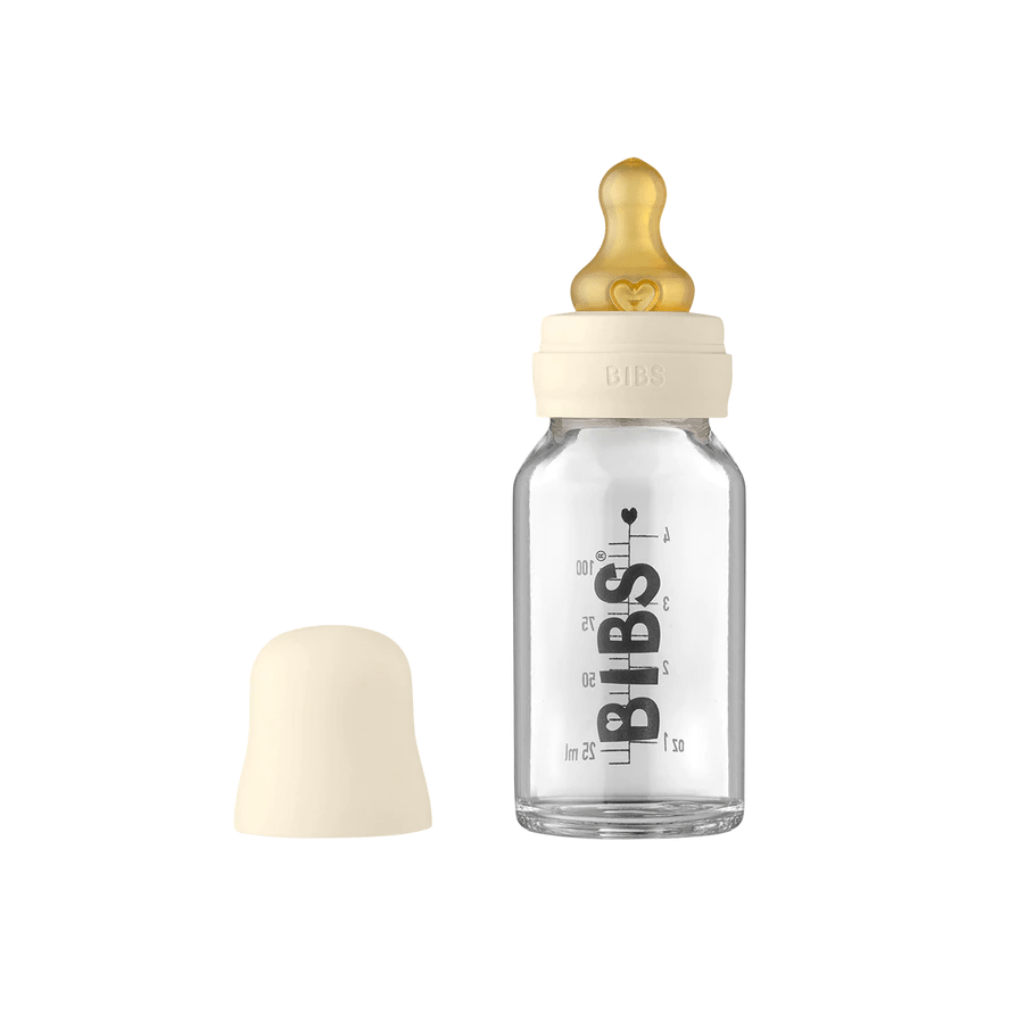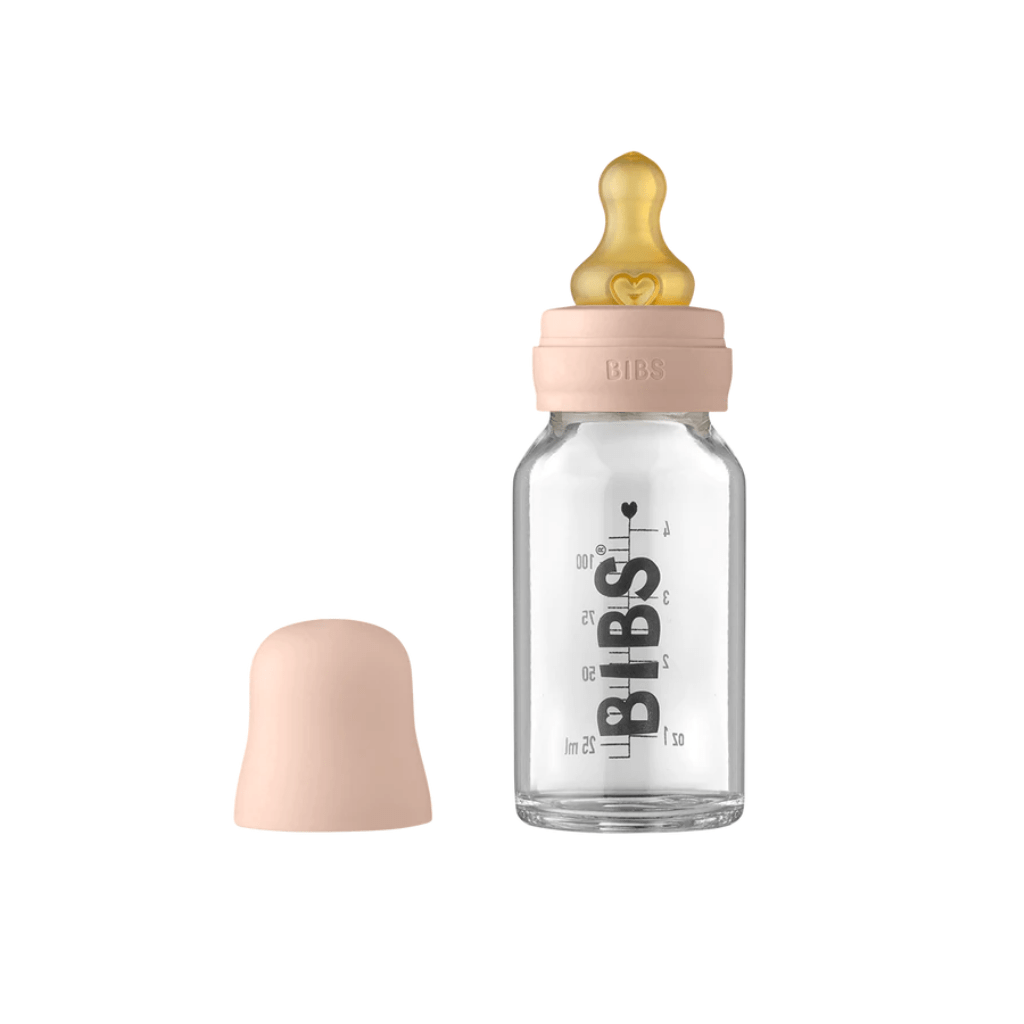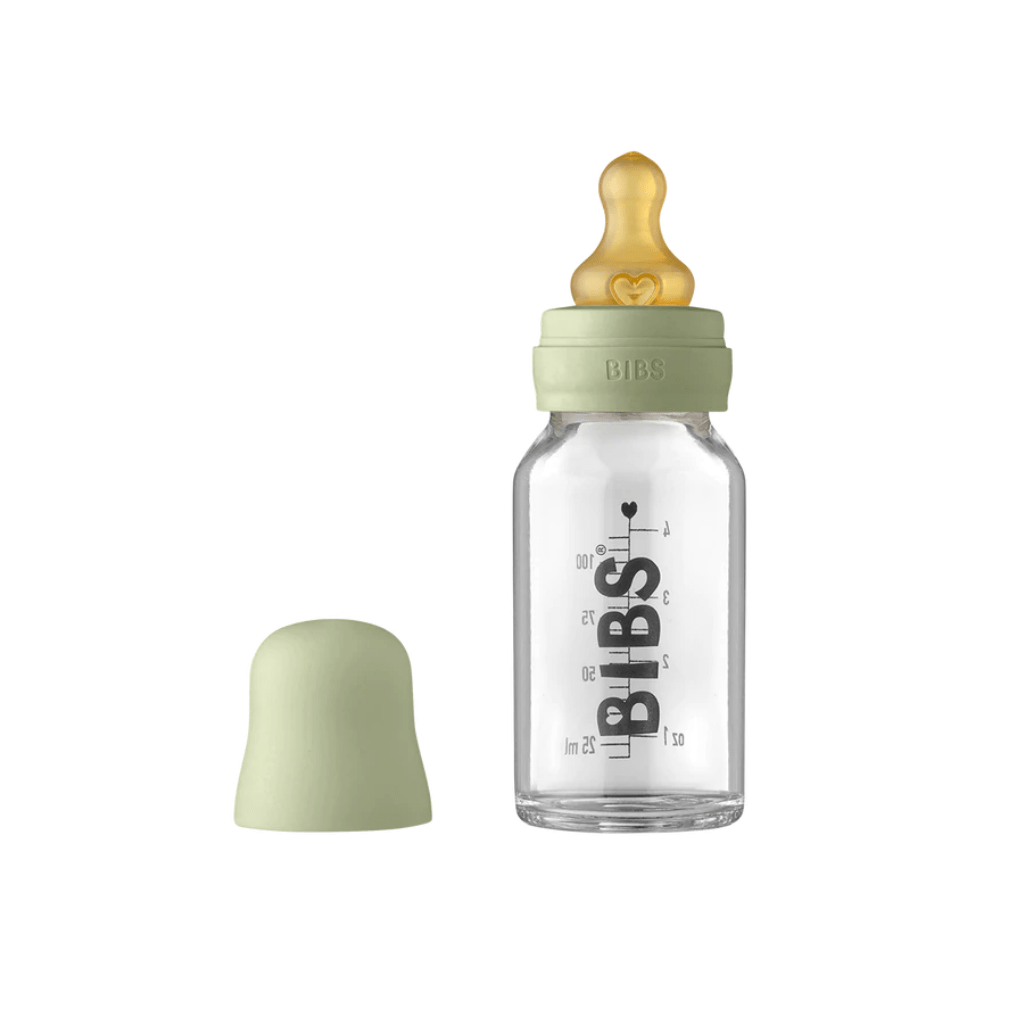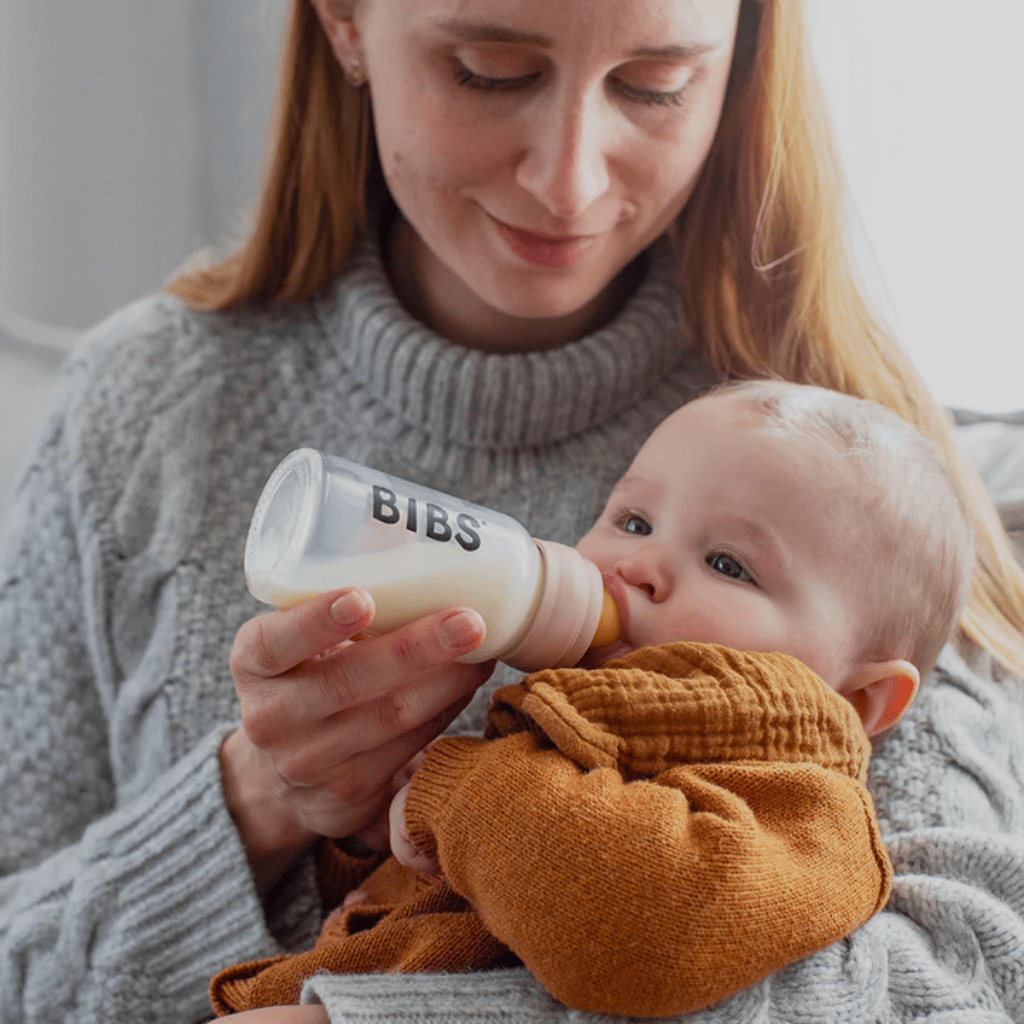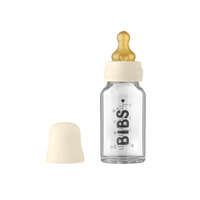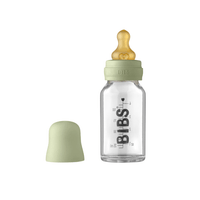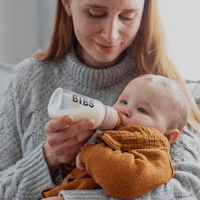 Description
BIBS baby bottle is designed for babies and parents. The bottle is designed with the child's needs in mind and is made of borosilicate glass, which is temperature- and thermal shock-resistant, durable, and much more.

 Features
Made of borosilicate glass which is durable and heat resistant
Does not emit microplastics into the milk
Round nipple in natural rubber latex (slow flow)
Recommended by midwives to support natural breastfeeding
Designed with an anti-colic function
All parts are made of 100% safe food-grade material
This set contains

Glass bottle 110 ml.
Cap
1 nipple (slow flow)
Milk Lock
Screw cap
Foldable funnel

The bottle comes with a foldable funnel making it easy for you to fill up the bottle fast and easily with less milk/formula waste. The baby bottle contains a milk lock for easy and hygienic storage. It can be placed under the screwcap and cap. This makes it easy for you to take the bottle with you on the go, without having to worry about spilling the milk in your bag or the stroller.
Find out more about the different nipple flows here 
Nipple Info
The round nipple promotes a similar tongue placement and sucking technique when breastfeeding, since the round shape allows the sides of the tongue to elevate and cup around the nipple, just like it does during breastfeeding. This also prevents "nipple"-confusion if you are both breastfeeding and supplementing with a bottle.
The nipple is equipped with an anti-colic valve, that lets out air which reduces air swallowed while feeding.
The nipple is produced from natural rubber latex. Since natural rubber latex is a natural material, colour variation may occur.
Care
Your baby bottle must be cleaned and sanitized before your baby uses it. Part of good baby bottle hygiene is carefully cleaning the bottle before each use. The younger the baby, the more important it is to protect it from bacteria and to maintain good hygiene.
Before first use
Before first use, disassemble and clean the product by placing all components in boiling water for 5 min. to ensure hygiene.
Subsequently cleaning
The latex nipple must be cleaned and sterilized before each use by scalding.
Pour it with boiling water and let it soak in the water for approx. 5 min.

Pick it up and let it dry on a clean towel.
DO NOT use microwave sterilizing or cleaning products or even dishwasher as it will break down the natural rubber latex. Renew the nipple after using it for 4-6 weeks for safety and hygiene reasons. Please do not leave the nipple in direct sun.
Further, always inspect the nipple before each use by pulling the nipple in all directions inspecting it carefully before use, and replacing the nipple at the first sign of damage or weakness.

The milk lock, screw cap, ring, and glass bottle can all be cleaned and sterilised by
Washing with hot water and soap or washing in the dishwasher.
Pour them with boiling water, to make sure all soap residue is gone.
Let all the parts dry completely before re-assembly.
Microwave sterilisation
Do not heat any plastic parts or the nipple in a microwave oven. The glass bottle can withstand microwave heating, but we recommend that you washed it in the above-mentioned ways to ensure it is absolutely clean.