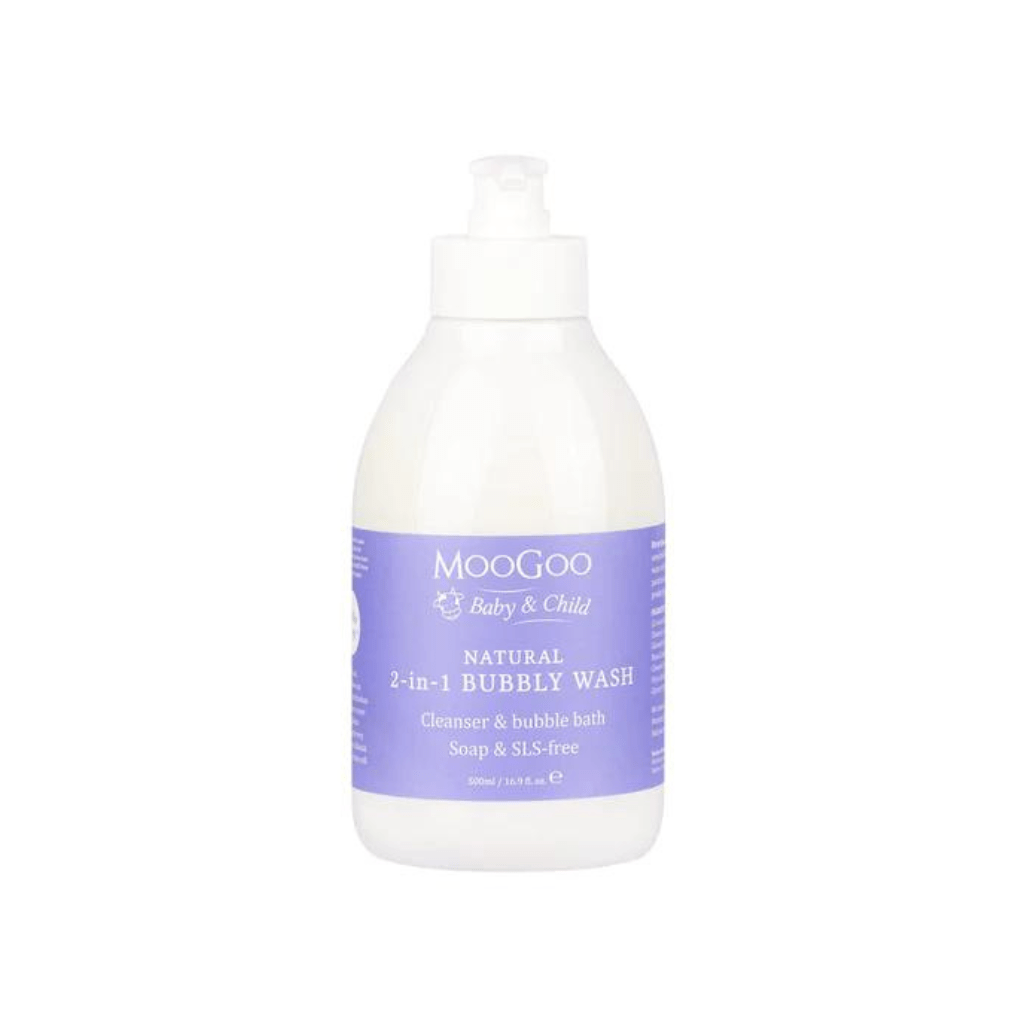 Description
We all know babies need bubbles, but often the biggest bubbles in town are made by Sodium Laureth Sulphate. MooGoo has taken a different approach, combining 5 natural cleansers that bubbly fairly well, although not as long-lasting as the ones that come from SLS. To further condition and replenish delicate baby skin, MooGoo added in some super soothing ingredients like Collidal Rice Bran, leaving baby as soft as a baby's.... well you know. Can be used as a bubble bath, directly on the skin as a wash, or as a natural shampoo, plus is fragrance-free for even the most sensitive bubs.
Features
Gentle and effective coconut and glucose blased cleansers for natural, healthy skin.
Happy, resilient skin, free from drying and irritating detergents and sulphates (SLS & SLES).
Naturally clean, healthy skin, and gentle enough for even the most sensitive skin types.
A beautiful, phthalate-free scent for a beautiful smell without the skin sensitivity.
Free from cheap, synthetic preservatives like Parabens and Phenoxyethanol.
Ingredients
Aqua (H₂O's Fancy Name), Cocamidopropyl Betaine (Coconut-Derived Cleanser), Decyl Glucoside (Glucose-Derived Cleanser), Lauryl Glucoside (Glucose-Derived Cleanser), Coco Glucoside (Glucose-Derived Cleanser), Glyceryl Oleate (Glycerin Based Conditioner), Sodium Cocoyl Sarcosinate (Coconut-Derived Cleanser), Guar Hydroxypropyltrimonium Chloride (Guar Gum), Oryza Sativa (Rice) Bran, Piroctone Olamine (Olamine Salt), Glyceryl Caprylate (Emollient), Humulus Lupulus (Hops) Extract.
Please be aware that ingredients may vary from time to time. Please refer to the ingredient list on the product packaging for the most up-to-date and relevant list of ingredients.